CEFC TRSM EXTENDS DRIVER LINE UP
Paul Ricard, France
5 April 2018, 16:45 CET
CEFC TRSM Racing are pleased to announce Dean Stoneman and Leo Roussel have joined the team. They will join already announced Charlie Robertson to complete the line up in car 5.
Dean Stoneman has vast experience in motorsport including single seaters and more recently GTs. Leo Roussel has a high knowledge of sportscars including winning the European Le Mans LMP2 Championship last year.
All drivers will make their debut into LMP1 with the Ginetta G60-LT-P1 this weekend at the Prologue.
Graeme Lowdon, President and Sporting Director
"We are very happy to have Dean back having raced with him in previous years in GP3 and to welcome Leo to the team. Both drivers bring a wealth of experience in racing. It is nice to complete the line up for car 5 and look forward to seeing what they can all achieve together."
Dean Stoneman, Driver
"I'm very excited to be joining CEFC TRSM Racing. I have been looking at WEC for some time now and really feel this is a great move with a fabulous set up. The car looks great and I have worked with many of the key people in the team before so we both know the level of mutual commitment which will be shown. To race at Le Mans has been a goal of mine and I'm hoping that the agreement I have with the team will lead to an expanded program in the near future."
Leo Roussel, Driver
"I am really happy to join the team, it is a good opportunity for me. It is the next step for me after winning the LMP2 ELMS title last year. I think we have a good line up with Charlie and Dean and also a good team with CEFC TRSM Racing. I am looking forward to starting the Championship."
Indy Lights Presented by Cooper Tires, Mazda Raceway – Laguna Seca, California, USA. 10th – 11th September 2016. Despite a subdued end to the season Dean Stoneman can reflect on a year in Indy Lights in which he left his mark on the US series.
This weekend the Rookie had to deal with a series of issues in race 1 and even suffered a drive through penalty in an incident packed race as the leading contenders fought for the title. The battle scarred Brit brought his Stellrecht Mazda home in 13th in a race he would rather forget.
Race two saw Stoneman looking to redeem something from the weekend to finish the championship as high as possible. The final race of the 2016 season however was to be no more charitable than the first and Stoneman was forced to battle hard again starting from 9th. The 26-year old drove an impressive race moving up to 7th before his car began to suffer from gear downshift issues, which resulted in him losing places. The Southampton based driver known for his determination managed to drag the Andretti car home to finish in ninth securing him 5th in the overall championship.
For Stoneman is was a frustrating end to a season in which he was a championship contender throughout. "We came here with a chance of winning the series after some great results so of course it's disappointing. That said, I think given we were racing on tracks for the first time and I can be proud in general of our performances. Winning both races in the month of May at Indy goes down as a career high, especially the Freedom 100, which was simply amazing. I want to thank the Andretti Autosport team and family for everything this year. To have Mario and Michael in your corner is quite something. Also a big thank you to The Stellrect Company and Bob Stellrecht for his support and friendship this year, we couldn't have done this without them. Finally a huge thank you to my father and my family for their continued help and guidance. We will now go away a look at the future. Indy Car was always our aim and we will start looking at possibilities for 2017."
In Stoneman's Rookie year he managed no less than seven podiums including the famous Indy 500 Carb Day victory at the Freedom 100 where he secured a stunning victory in a grandstand victory in front over 150,000 race fans. During the season he delivered an exciting brand of driving which the US fans appreciated and despite a couple of mechanical setbacks where we didn't start two races he pushed the championship to the final rounds this weekend at the Mazda raceway.
The Andretti driver finishes the 2016 Indy Lights series 5th in the championship.
Indy Lights Presented by Cooper Tires, Watkins Glen, USA, 3rd September 2016 Dean Stoneman battled hard and had to overcome tyre issues to maintain his championship push at the historical 'Glen track.
The Andretti driver had a challenging qualifying as the team tried to find the right set-up for the fast flowing circuit which was proving to be demanding on the super reliable Cooper tyres.
For the race, the rookie started from an unusual fourth row of the grid and made a solid start and moved up to 6th, a position he would hold for most of the 25 lap race. With five laps to go Stoneman began to put pressure on championship leader Urruitia for 5th place. The Uruguayan then suffered a huge blow-out and the Southampton based driver was up one place.
From there Stoneman started to suffer issues of his own and was forced to pit with just 3-laps to go for new tyres to prevent falling to the same fate as Urruita. It was an inspired call by the team as Stoneman rejoined the race and produced the fastest lap of the race (1.346.10) and with it a further championship point on top of the twelve he received for 10th place.
For Stoneman it was a tough day at the office, " We have battled hard all weekend with set up. The issue is the smooth track is creating issues with tyres degrading unusually quickly. The team and Cooper tyres have been great in trying to rectify this, but clearly towards the end of the race my tyres were all but gone. I want to thank my Andretti team for an great decision to pit, it allowed us to at least finish the race and stay in the hunt for the title."
The Indy Lights championship reaches its finale next weekend at Leguna Seca, California. Dean remains third in the championship 196 points, just 23 points behind the lead.
Dean Stoneman will take to the wheel of the NextEV Formula E car on Thursday, as part of the team's three-day official test at Donington Park, UK. Joining NextEV Formula E Team racers Nelson Piquet Jr and Oliver Turvey, the respected British driver will take over driving duties on the final day of the test.
Stoneman has most recently been making his mark in the USA, where he is competing this season in his debut year in Indy Lights. The 26-year-old has already notched up two race wins and is currently lying third in the standings. Stoneman took the 2010 championship title in the FIA Formula 2 series and subsequently tested in Formula 1 for the Williams team. He finished Vice Champion in the 2014 GP3 Series and, last year, could be seen in action in both World Series by Renault and the GP2 Series.
Dean Stoneman: "I'm really looking forward to my first time in a Formula E car. The opportunity with the NextEV Formula E Team is extremely exciting and I have been very impressed so far with their professional structure and ambitions going forward. They were winners of the inaugural Formula E championship and they are clearly looking to be a force this coming season too. The whole approach to driving these cars is completely different so I have been learning key areas like energy recovery so I can hit the ground running for this week's test."
Martin Leach, Team Principal, NextEV Formula E Team: "We're very happy to welcome Dean to the team this week and to give him this opportunity in Formula E with NextEV. He has shown great talent over the past few years and is currently impressing in Indy Lights. We look forward to seeing him in action later this week."
WATKINS GLEN, NY, USA 12th August 2016 – Dean Stoneman took to the 3.4-mile circuit of Watkins Glen International yesterday to take part in a Verizon IndyCar Series test.
For Stoneman it was the first taste of driving a IndyCar…and he impressed, finishing the day half a second quicker than the other Indy Lights drivers participating in the test, most of who had tested before.
Dean Stoneman, who borrowed the No. 28 DHL car from 2012 Verizon IndyCar Series champion Ryan Hunter-Reay, clocked the fastest time of the Indy Lights drivers with a best time of 1:27.14 within his 38 laps around the 11-turn course.
The Indy Lights championship contender was happy with his first time in a IndyCar "Yesterday was a new learning curve for me and I had been really looking forward to it! We went out this morning for 25-laps, two stints consisted of new-tire runs. We started by getting a feeling for the car with a quick out-lap and an in-lap, so the engineers look over that data. I took about five laps for me to get a feeling for the car. It was really enjoyable to drive the car and over the runs we were able to get quicker and quicker, making improvements more and more. I was looking at Alexander [Rossi]'s data compared to mine and just seeing where I could improve. There are some high-speed corners that just rely on confidence from me – knowing what the car is going to do and the way it behaves. The car is quite physical to drive, but it is a great car. I think I did a great job this morning, baring in mind that I have never driven an IndyCar before."
The test session was cut short due to heavy rain, reducing the opportunity for Stoneman to shine even more in his IndyCar debut.
The test also proved to be a good preview for Watkins Glen The Indy Lights team will begin Round 16 at The Glen Saturday, September 3 at 1:35 p.m. ET with Dean looking to re establish his championship push.
Race 2 – Indy Lights Presented by Cooper Tires, Mid Ohio, USA, 30th July 2016 Dean Stoneman reconfirmed his place as serious contender for this year's Indy Lights Championship by finishing 2nd and so securing his second podium of the weekend in Ohio.
The Rookie, who is racing in the IndyCar feeder series at tracks in the US for the first time impressed again from the start with a steely display of ruthless overtaking to get himself up to 3rd as early as the first lap. After the disappointment of race two in Toronto, when his car failed to start due to a still unknown fuel issue, Stoneman was again eager to boost his championship hopes with a good race… and it showed. The 26 year old kept the pressure on the second placed car and tried to reduce the gap, never allowing it to be more than one and half seconds and keeping him well within his sights.
As the race went on the pressure was starting to show on championship rival Serralles as both he and Stoneman pushed to chase the lead car. Then, three quarters through the 38-lap race Serralles lost control gifting 2nd place to the pacey Andretti driver. Despite some pressure from the 3rd placed car towards the end of the race, Stoneman's second place was never really under threat.
For Stoneman the result rounded off a strong weekend. "It was important for us to come here and get two good results. The race today was again tough. The level of competition is strong so one mistake and you can pay dearly for it. We seemed to lack a little bit of overall pace compared to the winner, which we need to look at, but all in all I'm happy. I have to thank Andretti for giving me a good car. We now we have a few weeks to regroup before the next race."
The championship takes a month break, with the next round being at the famous Watkins Glen in New York State 2-4 September. In the meantime, he is now just 25 points off the championship lead with three races to go.
Dean will also have a chance to impress with a IndyCar test with Andretti on 11thAugust, again at Watkins Glen, where he will hope to impress both IndyCar and the Andretti Team.
Indy Lights Presented by Cooper Tires, Mid Ohio, USA, 30th July 2016 Race 1Dean Stoneman strengthened his championship hopes with another impressive podium for 3rd place in one of his most physically demanding races of the season so far.
The Andretti driver had to work hard for his points having started from 4th on and a twisting track, which he had never raced on before. Despite this, from the start the 26 year old looked racey as he looked for a way through the field to the front.
Stoneman saw a chance to go around the outside of the two cars ahead of him and he seized the opportunity in a brave move to shift up to 3rd and ahead of two of his championship rivals, including the championship leader. Stoneman was to come under pressure a couple of times as the race went on, but with the championship no doubt on his mind the Southampton driver was in no mood to miss out on his 6thpodium of the season.
But as the 30 lap race came to an end Rookie Stonemam finished just over a second behind 2nd the car ahead and with it more valuable championship points.
After the race Stoneman commented, " That was tough! It's one of the most physically demanding tracks I've raced at for a while. I know we needed to have a strong day today to keep up with the leading guys in this championship and we achieved that. At the start it was a real battle for the lead, but the circuit is narrow and I had little space or options. It was good to make a move to get up to 3rd, although Serralles behind kept me honest for the rest of the race.
Stoneman will now prepare for race 2 from Mid Ohio tomorrow at 12:20ET
Stop Press
Dean Stoneman has been awarded 7 championship points from Toronto after his car failed to start before the race following a fuel contamination issue.
Indy Lights Presented by Cooper Tires, Toronto, Canada, 16th July 2016 Dean Stoneman reduced the gap at the top of the IndyCar feeder series championship after a gritty driving display to finish 5th despite driving over half the race with a damaged rear suspension.
Stoneman, racing for the first time on the streets of Toronto had suffered a frustrating qualifying session earlier in the day and was unable to get his Strellrecht Mazda any higher than 11th place.
For the race, Stoneman was eager to move through the field from the start and he did just that moving up to P9 after the first lap. The 25 year old was looking strong and began to push the car in front to gain even more positions on the bumpy Canadian street circuit. It was however to be from behind where Stoneman's race was so very nearly ended when on lap 9 an irrational dive down the inside at the end of the long fast straight by Piedrahita caused a huge collision to the rear of the Andretti driver's car. Stoneman was unharmed, but his car suffered a severely bent rear wishbone. The resulting crash moved the British Rookie up to 7th place as a nervous team looked on for a possible puncture.
As the race unfolded, the Southampton based driver showed real class to pick off even more place as he dived down the inside of championship rival Jones whilst nursing the suspension damge. In the closing stages Stoneman was to make up one further place to 5th following an accident, but it was more than Stoneman deserved after he brought his car home despite his damaged suspension.
Stoneman was satisfied with the result. "After a frustrating qualifying session, I'm pleased to have got fifth from eleventh. I thought we had a good start and I was confident we could move up the field. The collision was crazy, I could see the car coming and moved slightly to the left but it really wasn't and smart place to try to pass me. I wasn't sure how much damage we had or if we had a puncture. Thankfully I was able to bring it home despite the car being knocked out of line."
Stoneman will now turn his attention to race 2 from Toronto tomorrow.
Indy Lights Presented by Cooper Tires, Iowa Speedway, Iowa, USA, 10th July 2016 Dean Stoneman maintained his championship push with a 4th place keeping him just 23 points off the title lead.
Rookie Stoneman, racing at just his third oval track of his career, was hoping to take some of his experience from his famous win in the Indy 100 at Indianapolis in May to maintain his position as championship contender for this season's Indy Lights series.
Heavy rain had put the race in doubt earlier in the day as storms hit the Iowa circuit positioned in the middle of America's mid west Corn growing capital.  But as the rain faded it was just qualifying which was cancelled, meaning championship positions determined the starting grid.
As the pace car went in at the start Stoneman maintained his second place and looked strong behind the lead car as the 25 year old eyed up his third victory of his maiden season in the US.
But as the 100 lap race unfolded Stoneman was suffering from under-steer.   The young Brit, battled hard to hang on the second including a great duel with Veach, but the talented Andretti driver was unable to prevent a slip of two places to fourth.   In the closing twenty laps  Stoneman made something of a recovery and closed the gap to 3rd to les than one second, but with back markers holding up his progress the Southampton based driver's race ended to soon to claw back another place.
After the race a frustrated Stoneman commented "I feel like we missed a huge chance to make up ground in the championship today.  I struggled with under-steer from the start.  I felt towards the end I could have got a podium place, but we had guys who were a lap behind us not helping our progress, which was really frustrating.   We will go away and focus on the next round in Toronto."
The Indy Lights championship now moves to Toronto Canada next weekend.
Indy Lights Race 2 Presented by Cooper Tires Road America, Elkhart Lake, Wisconsin, USA, 26th June 2016. Cruel luck put paid to an epic drive from Dean Stoneman as he looked to collect his 5th podium in five races.
Starting once again from 5th, Stoneman pulled off another stunning start and made his way through the field. The 25 year old looked at home of the wet track as he skillfully picked off places up to second.
Following an on track crash, the race was put under full course yellow whilst the damaged car was collected. From the restart Stoneman went wheel to wheel with championship rival Jones and managed to edge a lead and looking strong for another win. Two corners later, Jones had other ideas and forced Stoneman on to the grass at the cars came together. The resulting collision damaged Stoneman's front right valve giving him a flat tyre. This was cruel for the British driver who was in dominant form.
The Andretti team worked hard and sent the number 27 Stellrecht Mazda back out with slick tyres due to the drying track. Stoneman was then on a charge producing the fastest laps of the race, as he tried to un-lap himself and gain vital championship points. In a stunning display of driving Stoneman did manage pull back the one lap deficit and even make up places to finish a impressive 9th and with it three points for the position and fastest lap; but Stoneman deserved so much more.
A frustrated Stoneman reflected on the race. " I'm disappointed we didn't get more from today. The car was great and I was confident we could get on the podium again. There was some questionable driving out there which cost me my race and you simply can't do what some of them are doing. We will go and regroup and come back stronger from this."
The result means Dean remains in second place in the series standings.
The Indy Lights series now moves on to Canada and Toronto where Dean will look to strengthen his championship position.
Indy Lights Presented by Cooper Tires, Road America, Elkhart Lake, Wisconsin, USA, 25th June 2016 Dean Stoneman reinforced his championship ambitions with an impressive 2nd place, in the first of two races this weekend.
Stoneman, who won the Freedom 100 last month in Indianapolis with a famous victory, made it four podiums in as many races at the long sweeping 4.7 mile Wisconsin despite having suffered a five second penalty.
Starting from 5th, Stoneman made a great start and as early as the first lap was up to 3rd. The racing was competitive and the Southampton driver had to battle hard to hold position through the steep curves of Road America, a circuit similar to the Belgium GP track Spa in so many ways. By lap three Stoneman was battling with his championship rival Ed Jones swapping position for second and the two pushed each other hard.
On lap seven Stoneman was adjudged to have blocked the car behind him and was handed a five second penalty, meaning that the 25 year old had to finish at least five seconds ahead of the fourth placed car to secure another podium and with it vital championship points. But as the race went on Stoneman rose to the challenge and opened up the gap from the third placed car lap upon lap and finished the race over six seconds ahead and so bagging 2nd place despite a series of safety cars, yellow flags and aggressive driving from his nearest championship rivals.
After the race Stoneman was asked about the incident packed 20 laps. " Well It was certainly lively. I enjoy the racing here it's fast and competitive. The incident that led to my penalty was unfortunate. I didn't see Andre come down the outside of me and I have apologised to him. The resulting five-second penalty meant we had to try even harder to build that gap from third. My Andretti team did a great job in helping me with excellent car and strategy to overcome the penalty." About the championship he commented. "To close the gap is great, we seem to be getting stronger and stronger with each race weekend. There is still a long way to go yet but our confidence is high."
The result consolidates second place in the series standings and closes the gap to 22 points.
Mazda Freedom 100 Presented by Cooper Tires Indianapolis USA, 27th May 2016 Dean Stoneman produced a stunning performance to win the at the famous Indy oval full of drama, which will go into the history books as the closest victory of all time at the Speedway.
Stoneman who won the Indianapolis Grand Prix a fortnight ago was eager add to his tally in front of over one hundred and fifty thousand enthusiastic race fans as part of the Indy 500 weekend.
Starting from fifth for the rolling start, the number 27 Stellrecht Mazda looked racey and by lap two had made the move of the race going on the outside and taking two places up to 3rd. On lap 6 the safety car was deployed after a crash and Stoneman used this as an opportunity to move further up the places. As the safety car went in the 25 year old began his push and edged up to 2nd on the fast moving 2.5 mile oval. From here the Andretti driver was gunning for the lead and on lap 8 seized the opportunity and led the Freedom 100.
For the remaining 32 laps, Stoneman was in a class of his own. He would come under pressure on a number of occasions, but managed to claw the lead back and take control at speeds in excess of 195 MPH. With one lap to go another incident lead to the safety car coming out teeing up a grandstand finish one lap to the finish. As the green flag was waved the second placed car of Ed Jones pulled alongside Stoneman, but the race leader was in no mood to let go of the win. As both cars pulled neck and neck it was a race to the finish with the large crowd cheering on. But ss the cars crossed the line side by side it was Stoneman who just sneaked it and took a popular win by just 0.0024 of a second, the closest margin of victory in the history of the Indianapolis Motor Speedway.
Stoneman arrived in parc ferme to the delight of his Andretti team and with his emotions clear to see. "Wow what a race! I knew we had a good car, my Andretti team has worked hard to give balance and good race pace. I always felt strong and had confidence to overtake early on. With the safety car coming out at the end it gave the others chance to get close and the race to the end was very close. This will go down as one on my best and most important victories of my career. Thanks to Andretti and Stellrecht this was a great team win"
The result now moves him into 2nd in the Indy Lights series.
Dean's next race will be 24-26 June at Road America Wisconsin.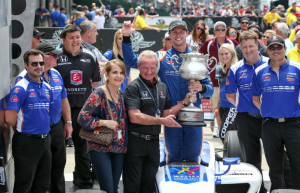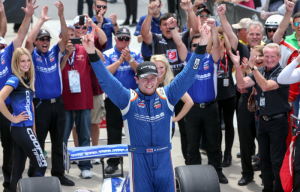 Rookie secures emotional maiden victory
Mazda Grand Prix of Indianapolis Presented by Cooper Tires Indianapolis USA,13 &14 May 2016 Dean Stoneman romped home to his first win in the US with a flawless performance in the second of this weekend's two Indy Lights races.
Racing at the home of his Andretti Autosport team, the 25 year old was eager to build on his impressive 3rd place from the previous round at Barber and looking to put his marker down at the start of the famous month of May in Indianapolis which includes the Freedom 100 and World famous Indy 500.
For race 1 on Friday Stoneman started from 7th , but as the race got underway he stunned those watching with a surge through the field up to second. Stonemam wasn't content with ending his push there and was on a mission. He kept pressure on the lead driver for the next 29 laps until the safety car was deployed following an accident. When the racing resumed with just 4 laps remaining, Stoneman was part of a dramatic three-car battle for the lead which he managed to briefly grab before being forced out on the next corner with some questionable driving from Urrutia. Stoneman continued to driver superbly and keep the pressure on but was unable to make back places and finished once again on the podium in 3rd.
Race 2 Saturday saw the 23 Stellrecht Mazda of Stoneman start from the third row in 5th. As the pace car went in a gaggle of leading cars entered turn one vying for the lead. Stoneman was looking racey and managed to make a move stick around the outside. With some of his championship rivals getting tangled up, Stoneman emerged in the lead by the end of lap one. What was to follow was a master class in car control and tyre management. The Southampton based driver came under pressure a number of times as both Urrutia and Serralles closed in on the Andretti driver in turn, but Stoneman had it all under control and when needed either forced a mistake from them or opened up a comfortable gap over each. This was a text book drive from the IndyLights Rookie who crossed the line, fists pumping, for his first win on US soil to establish himself firmly as a serious championship contender in the series.
A jubilant Stoneman couldn't hide his emotions following his first IndyLights victory. " That was amazing, we have worked so hard to get to this point and to finally get a win is great. To do it here at Indy is also special for the team and me. I managed to have a strong start and once I got ahead it was about managing the car. There was no point pushing too hard and being open to errors. I could feel guys getting close a couple of times during the race, but I had enough in reserve to open up the gap when needed. I have to thank my Andretti team for giving me a great car this weekend."
The result now moves him into 5th in the Indy Lights series.
Dean's next race will be the famous Indy oval for the Freedom 100 on Friday 27th May.
The motorsport industry relies heavily on simulator testing, and there's one British company spearheading the field. Mobil 1 The Grid caught up with Kia Cammaerts, founder and technical director of Ansible Motion, the Norfolk-based team whose rapidly-expanding customer base spans the entire motorsport spectrum.
---
Indy Lights, Barber Motor Park, Alabama USA, 23rd April 2016 Dean Stoneman secured his first visit to the podium stateside with an impressive 3rd place in just his fifth race in this competitive championship.
The Andretti Autosport driver arrived at Barber on the more familiar road track, following the streets of St Pete and oval of Phoenix, in confident mood eager to expand on his two positive performances in the series which have established him as one the leading drivers in the 2016 championship.
Qualifying saw Stoneman hover around the top five throughout the 30-minute session, at one point fastest before he posted his best lap of 1.12.8564 just one and half tenths of second off pole to put him P2.
Race 1 Saturday proved to be a frustrating affair for Stoneman as his car picked up an electrical issue on the parade lap which restricted him to the pit lane for the whole of the 30- lap race whilst his Andretti mechanics tried to rectify the issue. This was cruel luck for driver and team after such an impressive showing in qualifying.
Sunday, with the issue fixed, hopes were high for race two as the Rookie resumed his front row position of the rolling start. As the pace car went in Stoneman began an immediate attack for the lead and almost grabbed it as the car went through turn one. From there the 25-year old was pushing hard as he attempted to edge into the lead. On lap seven, Stoneman suffered a moment of over-steer at turn six and ran wide allowing the third placed car past. But Stoneman was in no mood to finish outside the podium places and began his fight-back. As the race entered it's final stages the Southampton based driver was significantly reducing the gap to second, but eventually ran out of laps and time to make the move he so dearly wanted.
For Stoneman, it was a good feeling to be on the podium in the US. "This is hopefully the start of where we need to be. We are improving all the time and there is so much more to come from us. I came to this series fairly late on with limited time in the car, so we are playing catch up to the other guys, but we are making great progress. I really enjoyed today's race and it was good to bounce back after the disappointment of yesterday."
The result strengthens Stoneman's position within the top eight in the Indy Lights series.
Dean's next race will be at the Indianapolis Grand Prix Circuit, Indiana 12-14 May.
Series rookie Dean Stoneman produced a stunning drive to finish 5th in his first ever Indy Lights oval race.
The Andretti Autosport driver arrived at the Phoenix Raceway for his first oval race determined to build on a solid Indy Lights debut in St Petersburg, Florida where he picked up points in his first outing in the Stellrecht Mazda.
The weekend started off extremely positive for the 25-year old in practice one after finishing the session in an impressive third place. The second practice was used to simulate a race run setting, but still Stoneman was just two tenths off fastest in seventh.
Qualifying was a three-lap shoot out format that Stoneman was experiencing for the first time. Despite strong earlier practice times the 27 car qualified in 9th place, just two and half tenths of second off pole.
For the race, Stoneman was eager to make up places from the rolling start on the fifth row.. and he did just that. After the first of the race's ninety laps the 27 car had already moved up to 8th place. From there he was hunting down 7th and on lap twenty-nine he had secured that place with a eye now on the place ahead. The field bunched up thanks to a safety car following an incident. From the restart Dean used this opportunity to make a jump on the sixth place car ahead of him.
Dean was then on a charge and all eyes were on him as he became the fastest car on track with a average speed of 161 mph as he looked for every way possible to get past the 5th place car. Then the British rookie dived low before going high on the oval track and wrong footing his rival and finally moving up into 5th with a overtaking move way above his experience level on ovals, much to the delight of the race fans and the Andretti team.
After the race Stoneman was delighted with his debut oval track race. "It was a difficult qualifying yesterday. We had some challenges and we went into the race today starting ninth. Today, the Stellrecht Company Mazda showed great race pace and we were able to pick off places, but unfortunately the race wasn't long enough to keep chipping away. We had great potential and my pace was very quick bearing in mind it was my first time on an oval. It's been a great learning curve. It's a shame we didn't qualify further up the grid, we really could've won this."
The result now moves him into 5th in the Indy Lights series.
Dean now turns his attentions to the next race in Barber Alabama 24th and 25th April.
Two solid performances opens Indy Lights account
Indy Lights by Cooper Tyres, St Petersburg, Florida USA 12&13 March 2016
Dean Stoneman started his US racing career with two solid performances and top ten finishes to secure points on just his first time racing in the US
The 25 year old impressed all during Friday's two practice sessions when he finished 3rd and 5th respectivly against a experienced field, many of whom had been at the street circuit last year. In fact the Rookie driver could have gone even quicker if it wasn't for clutch issue in the second session whilst on a flying lap.
Qualifying wasn't to go Stoneman's way as he repeatedly got caught in traffic on the tight streets of the Florida street circuit preventing him getting in a clear and quick lap limiting to 13th place.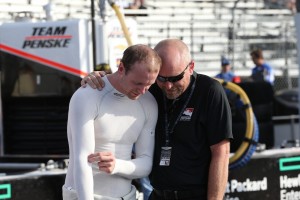 For race one Stoneman made a great start from the seventh row to move his way through the field, picking off places one by one to move up to eighth. Stoneman was satisfied with the result but still disappointed that quailing didn't give him more. "For the first race of the Indy Lights Presented by Cooper Tires Championship, we had a difficult qualifying session which led to an unfortunate starting position, but to start 13th and finish 8th in my first race is a solid start. If we can qualify better there is no reason we can't look at podiums, which is why I'm here. I showed my speed in qualifying, but unfortunately the traffic was holding us up for quali. It was a shame, especially after two good practice sessions on Friday. During the race, we were able to show some good speed and were able to make up positions."
For Sunday's race two the Southampton based driver was looking to make up places from 13th. From the start he made one his trademark starts and again made up places in a thrilling race to cross the line in a superb 6th place and with it more championship points.
After the race Stoneman was again in a positive mood. "Today we had a solid, consistent race. We earned decent points toward the championship in both races this weekend after a poor qualifying session. I worked hard with the team last night and we found a solution which improved the car this morning. We showed good pace today starting from 13th and gaining positions to sixth. It is still about learning the tyre, it's a long race using only one set of tires. The Andretti Autosport team has done a great job. Thanks also to my title sponsors, Stellrecht. It has been a good weekend, we learned a lot."
Stoneman now turns his attention to the next rounds of the Indy Lights by Cooper Tyres championship as the series moves to Phoenix Raceway, Arizona 1&2 April
For more information
Ant Shaw
[email protected]
+44 (0)7768 275464
INDIANAPOLIS (Feb. 24 2016) – British racing standout Dean Stoneman will make his Indy Lights Presented by Cooper Tires debut in 2016 with championship team Andretti Autosport. Stoneman, who is viewed as one of the most gifted drivers of his generation, will pilot the No. 27 Stellrecht Mazda driving alongside teammates Shelby Blackstock and Dalton Kellett.
"Dean is a true raw talent and has an incredible, inspirational story," Andretti Autosport CEO Michael Andretti said. "I can't think of a better fit for our Indy Lights team and the Mazda Road to Indy Program for the 2016 season. We look forward to working with Dean and helping to grow his career in U.S. open-wheel racing."
Stoneman is a race winner in nearly every category he has competed in, including capturing the F2 Championship in 2010. On course to obtain a coveted Formula 1 career, Stoneman's drive was put on hold when diagnosed with advanced testicular cancer at the age of 20, sending him on a 12-month battle to recovery.
While starting on the road to recuperation, the Southampton resident took a two-day test session with Andretti's Indy Lights effort in 2012 before returning to the seat full time 2013 in the highly competitive Porsche Carerra Cup GB Championship. Stoneman's long anticipated return to racing continued into 2014 as the GP3 Series vice champion and on to 2015 with competition in the World Series by Renault 3.5.
"I'm delighted to be racing in the U.S. this year," said Stoneman. "We have been looking at racing here for a while now and to have finally secured a seat with Andretti in Indy Lights is a fantastic move for me. This season will form the first step towards racing in the Verizon IndyCar Series. One of the motivating factors of coming here is the The Mazda Road to Indy program. Rewarding success and assisting progression to the next level of the sport is great and can make a huge difference to a driver's long-term career in racing."
Stoneman added, "I'm now just looking forward to joining the team this week for my first test in Phoenix. I can't wait to sample ovals for the first time and rise to the challenges ahead. I know Andretti's commitment to success matches my desire to win and be a competitive force in the series."
The 2016 Indy Lights Presented by Cooper Tires championship begins March 12 with the opening round of competition on the streets of St. Petersburg, Fla. Andretti Autosport will field three full-season Indy Lights entries with Blackstock, Kellett and Stoneman while a fourth entry remains in the works. Keep up to date on all things Andretti via Twitter with @FollowAndretti.
For more information please visit AndrettiAutosport.com or Contact Ant Shaw +44 (0)7768275464
FIA GP2 Races 1 & 2, 20th/21st November 2015 Bahrain. Series rookie Dean Stoneman made further progress during two strong performances in Bahrain for the Carlin team as he adapted life in the F1 feeder series.
The Red Bull Junior arrived at Bahrain for the first time eager to build on a solid debut in Sochi where he picked up points in his first outing in the Carlin car.
For the first race Stoneman can consider himself very unlucky not to have finished with more. The 25 year old made a stunning start making up five places only to be hit and spun from behind at turn eleven by former World Series rival Oliver Roland. Roland was to apologise after the race, but this didn't lesser the frustration for Stoneman who battled his way back to finish 21st. The result was certainly not representative of his impressive race pace at a circuit he had never raced at previously.
Starting from 21st on the grid for race two, Stoneman again got a great start and stayed out of trouble in an incident packed first lap. From there, the Red Bull Junior steadily picked his way through the field overtaking many established GP2 drivers to bring home his Dallara in an impressive12th place.
For Stoneman is was another step forward in understanding the GP2 car and lining himself up for the next race in Abu Dhabi and for 2016. "I think we have made some good progress here this weekend. I have been working hard with the team to overcome a couple of set up issues to get the car to my liking. Carlin have been great and it's good to be with team with so much experience at this level." About race one he added: " It was frustrating to get hit especially after having such a good start. Trying to get myself back up through the completely destroyed the effectiveness of my tyres, which were all but gone by the end of the race which prevented any hopes of finishing in the points . Still, I think we have made a step forward and we can draw positives from this weekend."
Further Information
Ant Shaw
+44 (0)7768275464
[email protected]
www.deanstoneman.co.uk