Further Points for Stoneman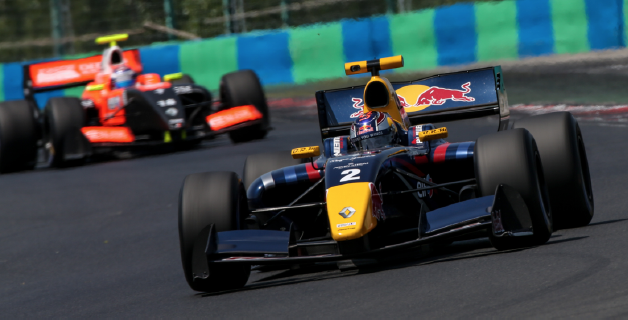 Further Points for Stoneman
Saturday, 13th June 2015 Hungaroring Budapest Hungary. Red Bull Junior driver Dean Stoneman collected more valuable championship points in race one of the fourth round of the World Series by Renault 3.5 with a 6th place finish.
The DAMS driver started from an uncharacteristic 6th row of the grid after a frustrating morning qualifying session when he was repeatedly blocked on fast laps. But this didn't stop the rapid Stoneman from making a great start which saw him make up four places as early as the first lap into 7th against the highly competitive field in the baking Hungarian sunshine.
From there, the charging Red Bull battled hard for 6th and on lap five secured it despite some questionable driving from Jaafar. The 24-Year old then drove a solid and measured race to bring is DAMS Dallara home in an impressive 6th place and with it eight valuable championship points.
Stoneman reflected on the result. "From where we started 6th is a good result. Although its hard to overtake here I managed to make up some places, but 6th isn't where I want to be too often. Qualifying was a little frustrating and I couldn't seem to get a clean lap in due to being blocked several times. We will regroup tomorrow for race two and learn from today."
The DAMS driver still stands 4th in the Renault World Series 3.5 Championship. Race 2 of the Renault World Series 3.5 championship from the Hungaroring starts at 13:04 CET tomorrow.
Further Information
Ant Shaw
+44 (0)7768275464
[email protected]