Jerez Jinx for Stoneman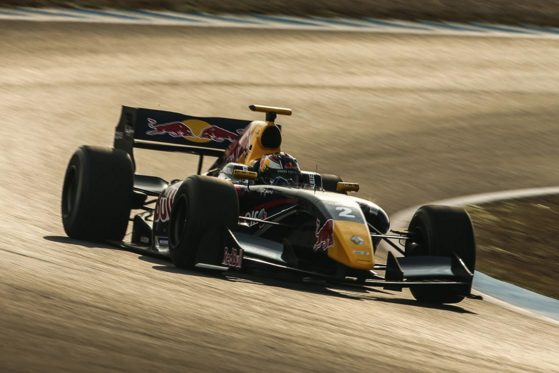 #2 Dean Stoneman (GBR – DAMS Dallara-Renault)
Qualifying 1: 12th – Race 1 Grid: 12th – Race 1 Result: 13th
Qualifying 2: 9th – Race 2 Grid: 9th – Race 2 Result: DNF
Formula Renault 3.5 Championship position: 6th – 130 points – after 17 of 17 races
Dean Stoneman's Formula Renault 3.5 Championship season was full of impressive speed and great moments certainly but it started with a heavy shunt at the Jerez preseason test and ended with a DNF thanks to contact at the start of the last race.
Again there was obvious pace. The 25-year-old Briton had looked on his way to a good Race 1 grid position, third fastest with three minutes to go he ended up in the gravel trap bringing out the red flag. Because he caused the stoppage his best time was discounted and he would start from row six.
He then made a great drive from 12th up to 7th midway through Race 1 that was unfortunately negated when a stop to swap from wets to slicks because of the drying track did not pay off because of a pit stop error.
Rain in Spain
Rain sweeping across the circuit in the south-west of Spain caused delays and ever changing conditions. "We were working on the car throughout practice," explained Stoneman. "In Qualifying we had the pace and I was on a real quick lap and it started to rain, the back end came round, I corrected and ended in the gravel."
"So we had work to do in the race but we were certainly getting there, I was on wets, the track was drying and another driver who had punctured swapped to slicks and was setting quicker times so my engineer suggested to swap. I said I was coming in but there was a communication glitch and the message didn't get through, I arrived at the box and there was no one there."
First lap again in Race 2
For the third time this year, first lap contact caused a DNF, this time it was with Alfonso Celis, making a very slow start from P5.
"We had an issue in second qualifying that cost me time through the fast sections and we didn't qualify where we should but I was certainly up for a good race. I had a really good start, past two or three cars then Celis just came across and the contact folded my rear corner, that was the end of it."
It was not a fun finale.