More GP3 Points for Stoneman in Germany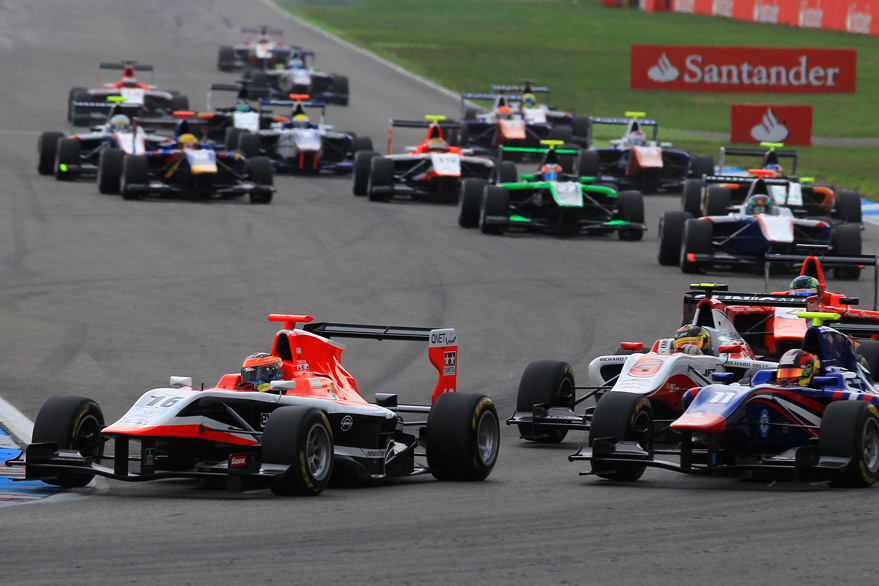 GP3 Round 4, Race Two, Hockenheim, Germany. Sunday, 20th July 2014. Dean Stoneman secured further valuable championship points in race two after yet another impressive drive.
The Marussia Manor GP3 driver was looking to further increase his tally following a stunning performance in race one yesterday, which culminated in thrilling finale as he brought home his car in fifth.
Starting this time from the second row, the 23-year old got bogged down with a slow start when he suffered from excessive wheel spin due to debris on the track. Stoneman was also running without first gear, which was damaged at the start; possibly from the wheel spin issue.
It was again a frantic group of cars that entered turn one and the Southampton based driver managed to keep out of trouble to slot himself into seventh. As the race developed Stoneman was one of three cars battling for fifth place. With just eight laps remaining, Stoneman's cause was helped hugely when the seventh place car of Kirchofer made an ambitious move down the inside of Stoneman and fifth place Bernsdorf resulting in an inevitable collision narrowly missing Stoneman and leaving him in fifth.
From there, Stoneman began to hunt down fourth place, but without first gear and only limited number of laps remaining Stoneman crossed the line in fifth place.
After the race the third placed car of Eriksson was given a twenty-second penalty, which promoted Stoneman to a well deserved fourth.
Stoneman was pleased with his weekends work: "We came here looking to get some good solid points following a couple of frustrating races. We have now got the car where we need it pretty much and I will be working with my engineer Pete Berry to build on this next week in Hungary. This series is all about consistency and I believe this is now starting to come together. Its really good that it's a back to back race next week as I believe we can keep up the momentum of performance "
Stoneman lies eighth in the Championship with 40 point with another six rounds and twelve races remaining.
The GP3 series now moves on the Hungaroring in Hungary for round five 25-27 July 2014
For more information:
Ant Shaw
[email protected]
0044 (0)7768 275464