More Points for Stoneman at Monza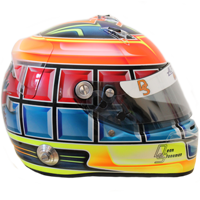 GP3 Round 7, Race 1 Monza, Italy, 6th September 2014. British driver Dean Stoneman secured further GP3 Championship points in an impressive drive today at the famous Italian circuit.
The 24-year old arrived at Monza fresh from his stunning victory at Spa two weeks ago eager to gain further points and strengthen his position in the competition championship.
Starting from the 5th row of the grid in 10th, Stoneman made what has now become one of his well known flying starts, first diving down the inside, then in to the middle before darting again down right in to turn one and overtaking several cars in the process. There was a slight collision exiting the corner for Stoneman, but he emerged with minor nose damage to his car in 6th; tucked in just behind the 5th place car of Bernstorff.
For the rest of the 17- lap race, Stoneman pushed his Dallara hard with the aim of gaining a further place. This resulted in him posting fast purple sector laps as he put pressure on the car in front. But with just five laps remaining, Stoneman benefitted from the 4th place driver being given a drive through penalty for overtaking under a yellow flag. This promoted the Southampton driver up a place as he crossed the line for a well-deserved 5th place and with it 10 valuable points.
Stoneman was pleased overall with the result. " We found ourselves again a few rows back on the grid, but I had a great start. It's busy in to the first corner here so I was pleased just to gain some places and come out the other end un-scathed, I had a slight knock, but nothing serious. I was pushing hard and never really felt any threat from behind so could concentrate on making up places ahead. All in all I'm satisfied with making up 5 places and getting more points."
Stoneman remains in 8th place in the GP3 Series Championship.
Due to reverse grid format, Stoneman will start from the second row of the grid for race 2 on Sunday from where he will hope to return to a chance of a podium finish once again.
Round 7, Race 2 starts Sunday 08:25 GMT. The race is also shown live on Sky Sports F1.
For more information:
Ant Shaw
[email protected]
0044 (0)7768 275464