On a Charge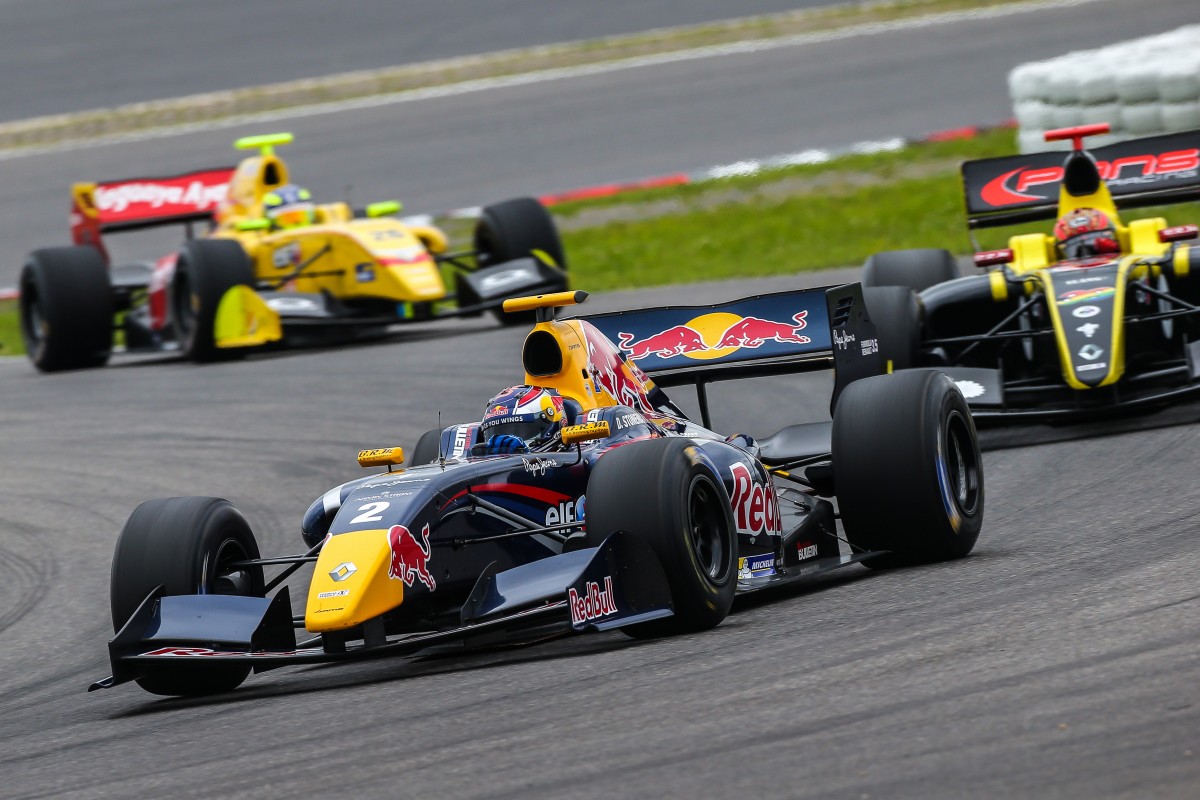 Red Bull Junior moves into third and remains top Rookie
World Series by Renault-Races 1 & 2, September 26/27, 2015 Le Mans, France .Dean Stoneman increased his standing in the Championship up to third place following two business-like races this weekend at the Bugatti Circuit.
Stoneman also maintained his position as lead Rookie in only his first season in the F1 feeder series with two professional drives.
The DAMS driver started the weekend with strong 4th place after qualifying in 6thplace. Stoneman produced one of his famous starts to power his way up to fourth from the start at a technical circuit where overtaking is at a premium. The 25-year old had few opportunities to vie for a podium position and banked valuable points instead bringing the No 2 car home in fourth.
For race two, Stoneman was in determined mood and eager to get another podium in his rookie year. As the lights went out the Red Bull Junior shot down the inside and gained two places getting himself up to fourth once again, but this time the Southampton based driver wasn't willing to entertain a position just one of the podium again without a fight.
He made his intentions clear and on lap 4 by posted the fastest lap at that point of 1.24.296 as he hunted down third place. Soon after this, Stoneman made his pit-stop and it was good. He re-joined the circuit behind Dillmann and wasted no time in pulling off an exceptional overtaking move and found himself behind Ellinas in a battle for third which would run to the end of the 40-minute plus one lap race.
Stoneman pushed and pushed trying to find a way past, at one point attempting to produce the move of the race around the outside of turn 6, but the door was closed on Stoneman and he was forced off and back into the clutches of the 5th place car. This only made the Red Bull driver even more determined as he resumed his mission for a podium slot. The pressure on Ellinas ahead was becoming relentless, then, half way through the race and through the chicane Stoneman pulled alongside about to pull off a great overtaking move only for the third placed driver to miss the apex and drive straight across the chicane, gaining a possible advantage, although no action was taken disappointedly for Stoneman and the DAMS driver was forced to settle for 4th.
Dean summed up the weekend. "It's been a mixed overall. Our race pace is there, but we are again trying to work out qualifying and how we can improve this. I really enjoyed the second race and hoped I could get another podium. The team did a great job with the car and the pit-stop was superb. I was disappointed that Ellinas didn't get a penalty for going straight on over the chicane. I had the measure of him and was clearly alongside, but I guess the stewards saw it differently. It's just so hard to overtake here so it's frustrating when these things happen when you think you have done everything possible to gain a place."
The World Series by Renault now moves on to its final rounds at Jerez in Spain 16-18th October