Podium Place for Stoneman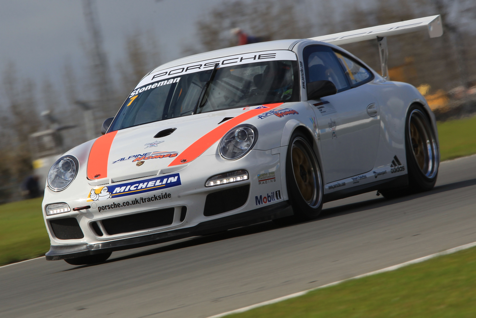 Donington Park, Leicestershire UK, Sunday 21 April 2013. Dean Stoneman maintained his championship campaign with another visit to the podium finishing third in round three of the Porsche Carrera Cup GB.
Stoneman was aiming to be the first driver in the championship to win his first three races. He did his chances no harm at all when he made an electric start from pole position to lead in to turn one at Redgate. From there both Dean and rival Meadow were able to carve out a two second lead from third placed Gelzinis.
Stoneman and Meadows lead early on with Stoneman dictating the pace and holding off a half-second lead over the 2012 champion and managed to fend off any attempts by Meadows to snatch the lead from the 22-year old Southampton driver.
Everything seemed to be pointing towards another record-breaking Stoneman victory when with just 8 laps remaining the championship leader made a rare error under breaking through the Craner Curves. As his car went on to grass the number 7 car lost its front splitter and in doing so the lead. Stoneman rejoined the circuit behind Meadows but with the damage sustained during the excursion Stoneman's car was suffering from serious handing issues.
More…
With only a few laps remaining and suffering from aero issues following the loss of the important front splitter, Stoneman was forced to defend his third place position from an advancing Rory Butcher. Despite the pressure, Stoneman was able to complete the 23 laps with an all important podium position.
Stoneman was relieved to have secured third "Although third is fine I'm very frustrated to has lost the lead due to a rare error. I felt I had it under control for most of the race. I had Michael in my mirrors, but was able to open up a lead when needed. I just pushed a bit too hard. The moment I tapped the brakes I knew I had got it wrong. I'm still learning the Porsche and will put it down to experience."
Redline boss Simon Leonard: " Another strong performance by Dean. His start again was superb. He is frustrated for making an error, but is well placed to make amends for the next race. People have to remember he is still learning the Porsche."
Dean will start from the second row in third for second race at 15:42. The race will also be shown live on ITV4
For more information:
Ant Shaw
[email protected]
0044 (0)7768 275464