Rapid Stoneman Maintains Championship Lead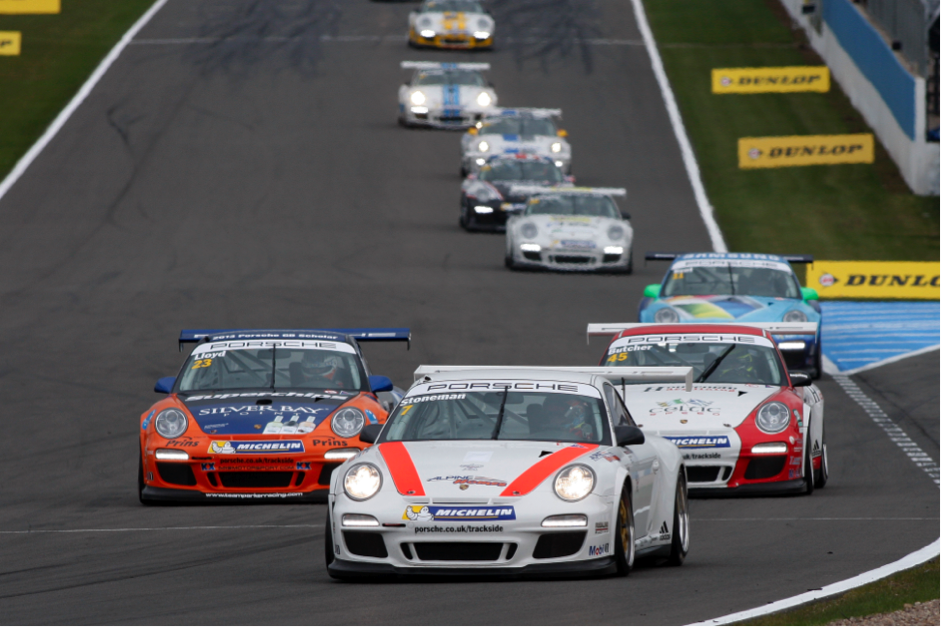 Donington Park, Leicestershire UK, Sunday 21 April 2013. Dean Stoneman maintained his championship lead with a solid second place and fastest lap in round four of the Porsche Carrera Cup GB.
Starting from the second row of the grid and on the dirty side of the track the Redline driver suffered an uncharacteristically slow start. As the leading pack entered turn one at Redgate the 22-year old found himself in fifth place behind his main championship rivals. Dean then began to pick off Lloyd and Butcher to get himself into third as the leading bunch began to pull away. Stoneman was on rapid form as he aimed to make up places and on lap six posted the fastest lap of the race with a time of 1.07.855 as he chased Gelzinis.
Stoneman then began his push for second and on lap 9 he forced Gelzinis into an error on the Craner Curves and he was able to ease by with an eye now on the leader Meadows. The BRDC Superstar Stoneman began to reduce the gap between himself and first place with each lap. The advancing number 7 Porsche was pushing hard and even created a huge cloud of dust as he went slightly off line as the two cars entered the Wheatcroft straight from Goddards. Eventually it was Stoneman who ran out of laps and had to settle for a solid second place.
More…
Stoneman reflected on a productive weekend of racing. " That will do. Although I would have preferred to have secured even more points with a win or two I'm happy overall with my progress in the Championship. Two podiums are great and it's all about keeping the points coming in at this stage. It was also great to get the fastest lap too. I'm looking forward to the next rounds at my local circuit at Thruxton next month and hope to keep up my race pace as I have this weekend."
Redline boss Simon Leonard: "Dean gave us a very professional and business like performance this weekend. This boy can drive and he showed that in both race here this weekend. As I have said before the best is still to come from him."
Stoneman's third place in round three and second place in round four puts him on 77 points 8 points clear of Gelzinis and Meadows. The championship now moves to Thruxton for rounds 5&6 May where Stoneman will aim to maintain his grip of the Porsche Carrera Cup Championship GB.
Ant Shaw
[email protected]
0044 (0)7768 275464