Stoneman Banks Further Points in Hungary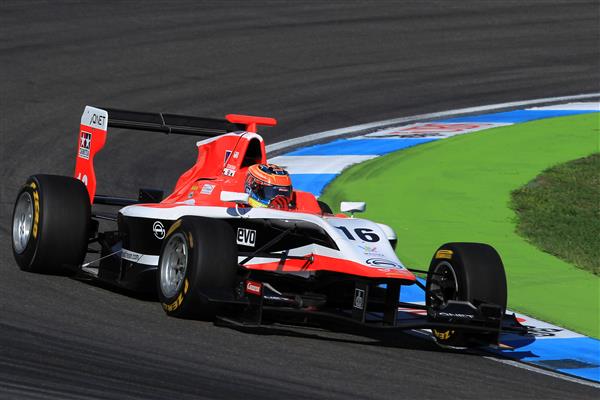 GP3 Rounds 5, Races 1&2 Hungaroring Budapest, Hungary, July 25/26 2014. Dean Stoneman produced yet another couple of strong performances in Hungary to pick further valuable GP3 championship points.
Racing in his first full season back in single seat racing since receiving treatment for cancer, the Southampton based driver put in a strong showing in both races to reinforce his return to the international stage.
Stoneman, who celebrated his 24th birthday last Thursday with the help from both the Marussia F1 and GP3 team personnel, was looking to build on his solid performances last weekend at Hockenheim.
In race 1, Stoneman started from the eighth row of the grid and as in previous rounds wasted no time in making a blistering start in the late Hungarian afternoon heat, first diving down the right hand side of the track before switching to the left as he entered turn one At a circuit where overtaking is considered almost impossible, he had made up as many four places by the end of lap 1. Then, by lap 3, Stoneman had moved up to 10th where he was to stay for the majority of the 18 lap race keenly looking to find a way past the 9th place car ahead of him, in turn trying everything to bag valuable championship points. His perseverance was eventually rewarded on the final lap when he eased into 9th and with it securing two well deserved points.
Race 2 on Sunday found Stoneman start from the 5th row of the grid due to the reverse grid format from race 1 the day before. As the lights went out, a surging Stoneman made a tremendous start once again in his quest to make up places. If there were to a prize for the greatest number of cars passed in a GP3 season, surely Stoneman would have won it by now. As the busy pack of cars emerged from the turn 2, it was the Marussia Manor Dallara of Stoneman which had moved up to 6th place.
Stoneman then began his push for 5th place taking tenths of a second out of the car in front with each lap. But Stoneman's determination was taking its toll on his tyres, and was now receiving pressure from the cars behind him, however he managed to secure a valuable 8th place and with it a further championship point.
Stoneman was generally pleased with getting further points " We suffered on our qualifying strategy when the session was red flagged. Finding myself some way down in race 1 was a challenge, but I managed to get a great start. Overtaking is hard here, but I still was able to make up some places." Looking to the next race he commented: "I'm going to spend the break now preparing for Spa with time in the Marussia simulator."
The GP3 series now takes a break for a few weeks before moving on to Spa for the Belgium Grand Prix August 22-24
For more information:
Ant Shaw
[email protected]
0044 (0)7768 275464