Stoneman Draws Positives from Bahrain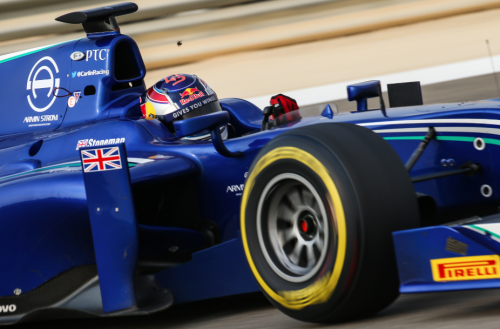 FIA GP2 Races 1 & 2, 20th/21st November 2015 Bahrain. Series rookie Dean Stoneman made further progress during two strong performances in Bahrain for the Carlin team as he adapted life in the F1 feeder series.
The Red Bull Junior arrived at Bahrain for the first time eager to build on a solid debut in Sochi where he picked up points in his first outing in the Carlin car.
For the first race Stoneman can consider himself very unlucky not to have finished with more. The 25 year old made a stunning start making up five places only to be hit and spun from behind at turn eleven by former World Series rival Oliver Roland. Roland was to apologise after the race, but this didn't lesser the frustration for Stoneman who battled his way back to finish 21st. The result was certainly not representative of his impressive race pace at a circuit he had never raced at previously.
Starting from 21st on the grid for race two, Stoneman again got a great start and stayed out of trouble in an incident packed first lap. From there, the Red Bull Junior steadily picked his way through the field overtaking many established GP2 drivers to bring home his Dallara in an impressive12th place.
For Stoneman is was another step forward in understanding the GP2 car and lining himself up for the next race in Abu Dhabi and for 2016. "I think we have made some good progress here this weekend. I have been working hard with the team to overcome a couple of set up issues to get the car to my liking. Carlin have been great and it's good to be with team with so much experience at this level." About race one he added: " It was frustrating to get hit especially after having such a good start. Trying to get myself back up through the completely destroyed the effectiveness of my tyres, which were all but gone by the end of the race which prevented any hopes of finishing in the points . Still, I think we have made a step forward and we can draw positives from this weekend."
Further Information
Ant Shaw
+44 (0)7768275464
[email protected]
www.deanstoneman.co.uk