Stoneman Fights His Way to Emotional Race Win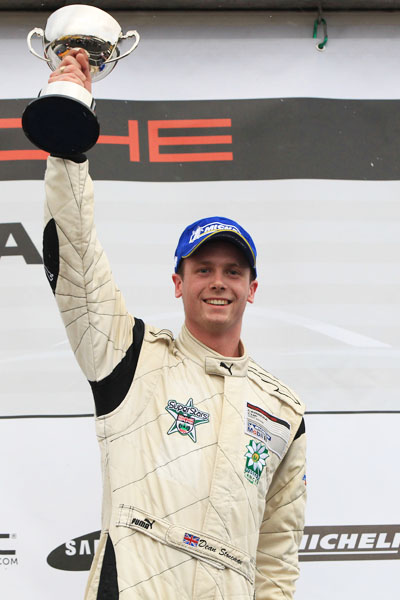 Brands Hatch, Kent UK, Saturday 30th March 2013. Dean Stoneman marked a highly charged return to motorsport with a win in an incident packed race in the opening round of the Porsche Carrera Cup GB.
Starting from pole, the 22-year old made a great start ahead of three of the most experienced drivers in the championship in his first race in the GT3 Cup car. By lap four and in driving snow, Stoneman had opened up a two second lead over the following pack. Then at the start of lap five the second and third placed cars of Butcher and Lloyd took each other off at Paddock Hill. With Lloyd's car stranded in a dangerous place in the gravel, the safety car was brought out which cruelly reduced Stoneman's lead.
As the safety car returned to the Pit Lane after three laps, Stoneman began to push and once again opened up a healthy lead over defending Champion Medows, but further drama was to follow. With only 5 laps to go and on a drying track, the former F2 Champion made contact a back marker on the entrance to Paddock Hill. This allowed Meadows to get closer to Stoneman for the tense battle for victory, but the Southampton based driver managed to defend any attempt to snatch victory; much to the delight and relief of those who had braved the adverse conditions.
More…
Stoneman received a emotional reception in Parc Ferme from his team and family who had just watched the driver mark his return to racing with a memorable win.
A jubilant Stoneman emerged from his Porsche. "I think I had everything thrown at me there.; Snow, safety car and a moment when I was lapping the markers. I don't think anybody can say I had it easy. This means so much and this race is for my family and everybody connected to me. I want to thank the team and Tim Harvey and the BRDC Superstars too."
Redline boss Simon Leonard: " I delighted for Dean, he drove superbly. To race against the guys out there and win race one just shows what a talent he is."
Stoneman's return to racing can only be described as flawless. Fastest in practice and qualifying topped off with a race win at his first attempt in a Porsche is viewed by many as a very special achievement.
Dean will start from the front row for second race tomorrow in the second race tomorrow at1 3:25. The race will also be shown live on ITV4.
For more information:
Ant Shaw
[email protected]
0044 (0)7768 275464