Stoneman Opens WSR Account with Podium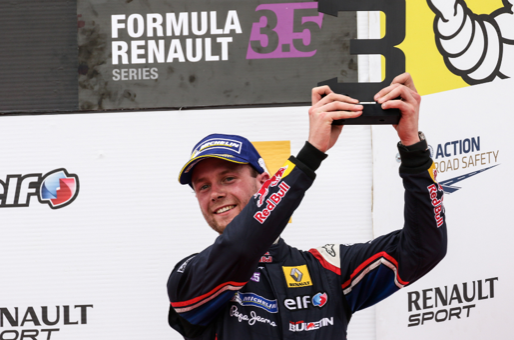 Stoneman Opens WSR Account with Podium
Saturday 25th April 2015 Motorland, Aragon, Spain. Dean Stoneman secured an impressive podium in his first race in the opening round of the Renault World Series 3.5.
The DAMS driver arrived at Motorland looking to build on positive pre-season testing at the Spanish circuit and firmly establish himself as one of the leading drivers for 2015.
The Red Bull Junior driver qualified in 6th and made a faultless start avoiding a number of collisions around him to position himself in 4th after lap one.   Stoneman then set his sights on moving through the field as he joined a close pack of five cars all vying for  a podium place.
As the forty-minute race developed, Stoneman slotted into fairly comfortable rhythm in 4th, which allowed him to control and conserve his car, especially his tyres despite some pressure from the car in 5th.
With just fifteen minutes remaining the twenty four year old began to push hard on the third placed car, taking half a second a lap out of the gap that separated them.   In the closing stages of the race, a penalty was given to the lead car for jumping the start; promoting Dean to third place and with it a great start to his WSR season.  Furthermore Stoneman also won the Rookie prize in his maiden year in the 3.5 series.
Stoneman was happy with his first World Series podium.  " It's great to be on the podium for my first race.   I have done little testing and the crash in Jerez limited my time in the car further, so we have felt like we are playing catch up."  He added, "It's an experienced field at this level with some very good drivers, so to finish 3rd and get Rookie of the day feels like a big achievement.  The team have done a superb job in the getting the car how I want it and I need to thank them."
Stoneman and DAMS prepare for tomorrow's race 2 at Motorland where the Red Bull Junior hopes to pick up further points.
Further Information
Ant Shaw
+44 (0)7768275464