Stoneman Returns to Podium at Snetterton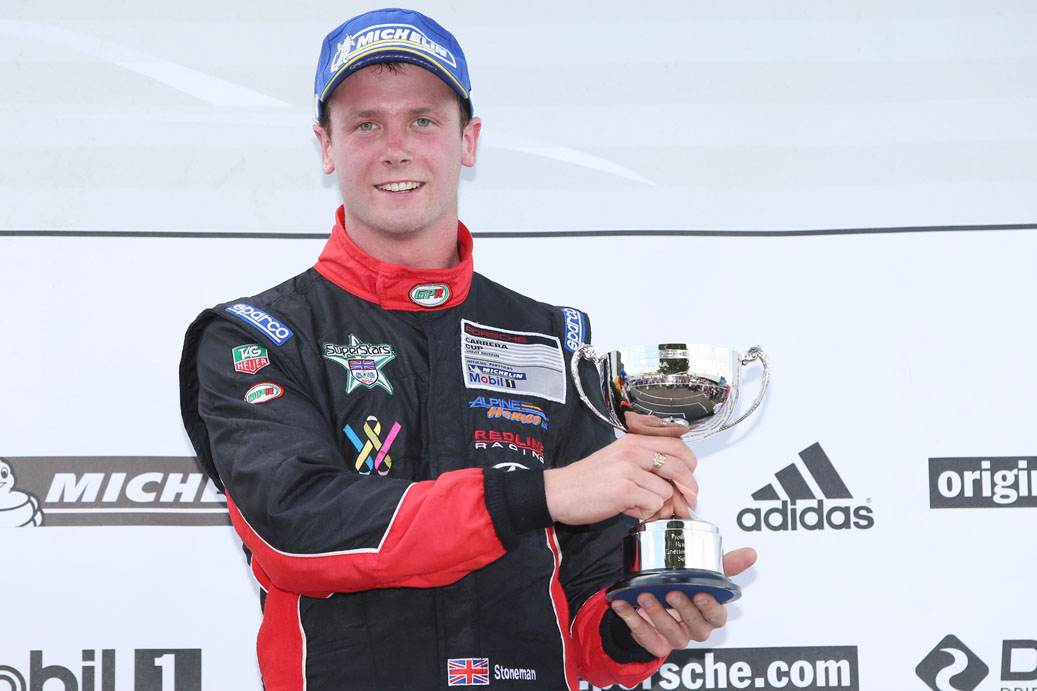 Snetterton, Norfolk UK, Saturday 3rd/Sunday 4th, 2013.
Dean Stoneman returned to form this weekend in the Porsche Carrera Cup GB after the long summer break to secure a well deserved second place for round 11 and a solid fourth place for round 12.
Following a strange qualifying session for Stoneman that saw him qualify outside the top four for only the second time this year, the 23 year old soon made amends in race one on Sunday by getting a great start and making up a place to fourth as they entered turn two at Montreal. Stoneman then started to put pressure on the car in front and it wasn't long before he made a great overtaking maneuver to move into third place.
Racing in front of his new sponsor Bike It and its guests, Stoneman then benefitted from a drive through penalty awarded to race leader and championship rival Meadows who jumped the start promoting the Southampton driver to a welldeserved second place.
From there Stoneman began to chase down race leader, but as the race drew to a conclusion Stoneman had to settle for runner up spot and what proved to be a very popular return to the podium.
Starting from the same place fifth position for second race of the day, round 12, Stoneman made another good start as the lights went out and despite a collision with another driver who turned in on him just after turn two, was able to slot himself into a three way battle for second. For most of the race the BRDC Superstar was able to keep within two seconds of the second place driver. It was however fading tyres that seem to stand between him and any aspirations of a higher place, so it was left to the former F2 champion to bring home his Porsche, racing in its new Bike It sponsored livery, home just outside the second podium of the weekend.
More…
Stoneman reflected on his weekend. " It felt good to be back on the podium especially after a mysterious qualifying session. I'm really pleased to be able to give my new sponsors a podium place and pick up more valuable championship points.  I haven't raced on this circuit for four years, so this makes the weekend's results event more pleasing. We now need to work on set up as we seemed to be fighting against under steer issues most the weekend."
Redline boss Simon Leonard: " Dean did a very professional job this weekend.  Picking up championship points is vital at this stage of the season and it was great to see him back on the podium following a tough few weeks"
The Porsche Carrera Cup GB now moves on to Rounds 13&14 at Knockhill, Scotland 24/25 August where Stoneman hopes to close the gap on the championship leaders.
For more information:
Ant Shaw
[email protected]
0044 (0)7768 275464