Stoneman Secures Stunning Podium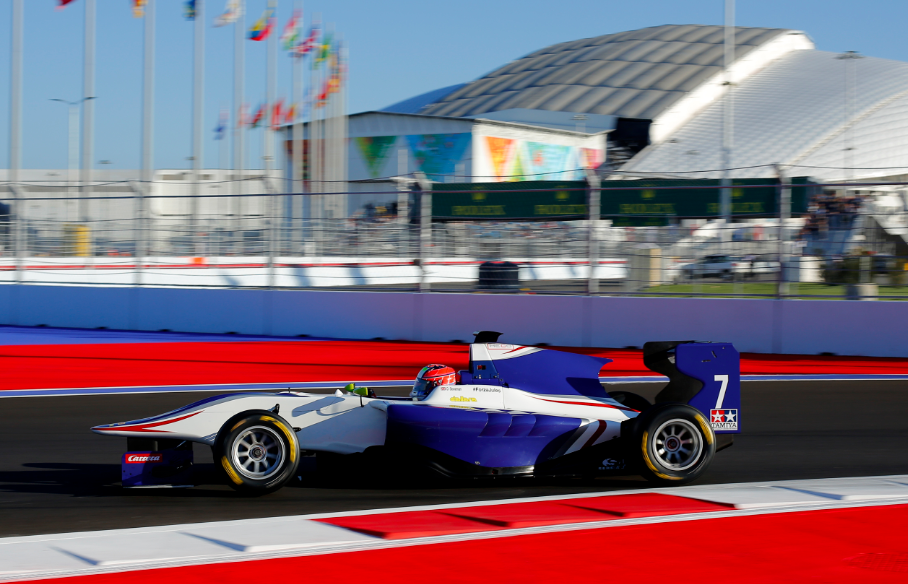 GP3 Round 8, Race 2, Sochi, Russia. Sunday, 12th October 2014. Dean Stoneman returned to the podium once again to finish 2nd for the second race in Sochi.
Starting from the fourth row in 8th due to the reverse grid format after Saturday's victory, the Koiranen driver made up six places and could have almost won the thrilling race on the final lap, a stunning result for the 24 year old.
Having secured a famous win in Saturday's race, Stoneman made a blistering start; making up two places by shooting down the inside of the straight narrowly missing a huge three car accident which halted the race for 10 minutes.
From the restart behind the Safety Car and in 6th place the 2010 F2 Champion was in determined mood and soon moved up to 5th. From there he was on a charge as he hunted down the 4th place car of the GP3 Championship leader. Then, on lap nine of the fifteen-lap race, Stoneman made a clinical move down the inside to move into fourth continuing his charge through the field.
With another podium very much in his sights Stoneman began his push for 3rd. His momentum was however slowed by the pace of the car in front, which made it difficult for the Southampton driver to pass. Then, with only five laps left the Safety Car returned to the circuit. As the cars bunched up and the silver Mercedes returned to the pit-lane Stoneman found a way past to move up to 3rd.
But Stoneman wasn't finished at that, with just three laps left and with the leading two cars having a close battle of their own ahead, Stoneman crept up on both of them to produce a grandstand finish to the race as the three vied for the lead. During the tussle Stoneman just managed to edge into the lead, but found himself on the wrong line and had to yield into 2nd. As the three cars came across the line it was Stoneman who secured an amazing podium in 2nd place rounding off a stunning weekend.
Stoneman was very satisfied with the result and reflected on what might have been: "I got a good start and just managed to avoid the accident. I knew from the restart I had to push. I needed to get on the podium to keep my championship hopes alive." About the final three laps: " Once I was into 3rd I always felt I could chase the guys ahead. It was a good battle with the three of us. I managed to edge it at one point, but my tyres had gone and I couldn't make it stick. Overall it's been a great weekend in Russia"
The result now puts Stoneman into 2nd place in the GP3 series with one final round remaining at Yas Marina, Abu Dhabi 21-23 November 2014
For more information:
Ant Shaw
[email protected]
0044 (0)7768 275464