Stoneman Secures Valuable Spa Points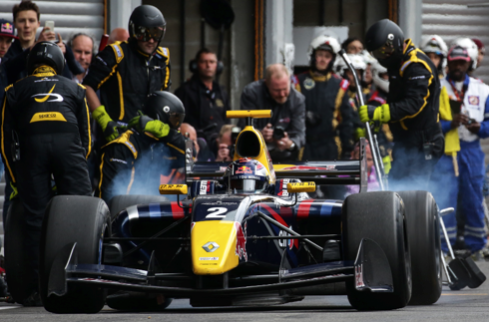 Stoneman Secures Valuable Spa Points
Sunday, 31st May 2015 Spa Belgium. Race 2. Dean Stoneman gathered more valuable championship points with a 4th place in the second of two races at this weekend's Renault World Series 3.5 rounds.
After qualifying in 5th, the DAMS driver was looking to improve from his 3rd place finish in race one on Saturday.  His start went well and Stoneman managed to maneuver himself up the inside of turn one and up to 3rd as the leading cars surged through the rapid Eau Rouge  for the first time.
The Red Bull Junior driver looked to be on a charge eyeing up second place immediately and taking large amounts of time from the car in front.  All looked set for another podium place as Stoneman pitted for new tyres midway through forty minute plus one lap race.
Stoneman then found himself down to 9th after the pit-stop, but as things equalised out after the other drivers had stopped, he was back up to P3 and pushing hard for 2nd.   As the race developed Stoneman's tyres began to fade after his strong efforts to secure 2nd and now was losing time and with five minutes remaining slipped to 4th despite a serious battle to hang on to a podium place with Vaxviere.    As the forty minute race came to an end the 24- year old  brought his DAMS Red Bull car home 4th and with it 12 valuable championship points.
Whilst disappointed not to be on the podium, Stoneman was in a pragmatic mood.  " I would of course liked to have been on the podium again, but it's good to get further points.   The car felt great and I really thought that second was a real possibility.   We opted for a low down-force setting, but as the others were allowed to use unlimited DRS throughout the race this proved not to be the advantage we had hoped.   Furthermore, my tyres had gone past their best which meant I was losing lots of time."  He reflected, " Points are vital at this stage of the season and we are showing lots of consistency which is good.   We will regroup and now focus on Hungary."
The DAMS driver now stands 4th in the Championship,
The next round of the Renault World Series will be at the Hungaroring, Hungary June 12-14.
Further Information
Ant Shaw
+44 (0)7768275464