Storming Stoneman in Grandstand Finish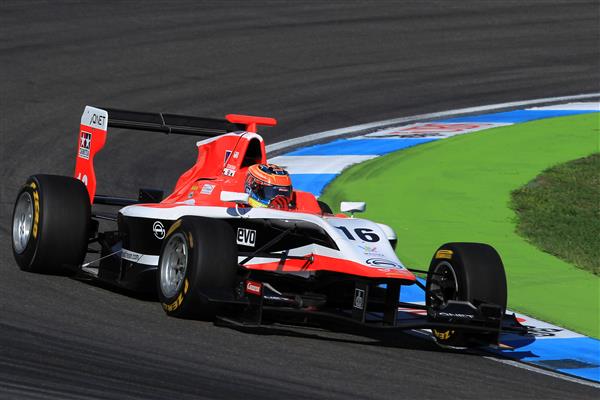 GP3 Round 4, Race 1, Hockenheim, Germany. Saturday, 19th July 2014. Dean Stoneman produced a peerless performance to finish fifth in an enthralling and dramatic last-lap battle in the sweltering German heat.
Starting from the fifth row of the grid, Stoneman made what has now become his trademark starts; tearing through a busy field of cars in a quest for valuable championship points. As the lights went out the 23-year old got off to a flyer and was up as high as seventh mid-way through the opening lap at the famous German circuit.
Stoneman then began to set his sights on sixth and spent a number of laps looking for a way past the car ahead. Finally with seven laps remaining the Southampton based driver managed to just get in front, despite both cars swapping places with one another and entering the corners side by side. From there Stoneman was on a charge, but was still just over three seconds off the fifth place Dallara ahead.
But as the late afternoon sun beat down, he had managed to whittle down the gap to virtually nothing and started to make a bid for fifth on the penultimate lap. As both cars then entered the final lap Stoneman was trying everything to get past and on a number of occasions just nosed in front only to lose the advantage. But with just over half a lap to go, Stoneman made a brave dive down the inside and made the move stick. Despite a couple of knocks, Stoneman was in fifth, a position he carried across the finish line of the 18 lap race.
Stoneman was delighted: "It was great to pick up some valuable points. The car has felt great all weekend. We would have qualified higher up the grid, but I suffered from a couple of drivers blocking me in qualifying whilst on hot laps." About the race he added : "I had some great battles out there today which I really enjoyed. I'm now looking forward to tomorrow's race now and hopefully securing more points."
Due to the reverse grid structure for race two, Stoneman will start from the second row of the grid from where he hopes to have a strong race.
Race two starts tomorrow at 08;25 GMT and can be seen live on Sky Sports F1 channel.
For more information:
Ant Shaw
[email protected]
0044 (0)7768 275464